Wichita Doula is Accepting Job Applications
Are you ready for a challenging, rewarding and fulfilling career,
working with new families during the most wonderful time of their lives?
Are you interested in being part of a dynamic company
that will support you, encourage you, and do good work in the community?
Are you an awesome person of
EXCELLENCE and INTEGRITY?
Would you like to learn
how to become a doula in Wichita, KS?
If you answered yes to these questions, you could be a good fit as a Wichita Doula team member!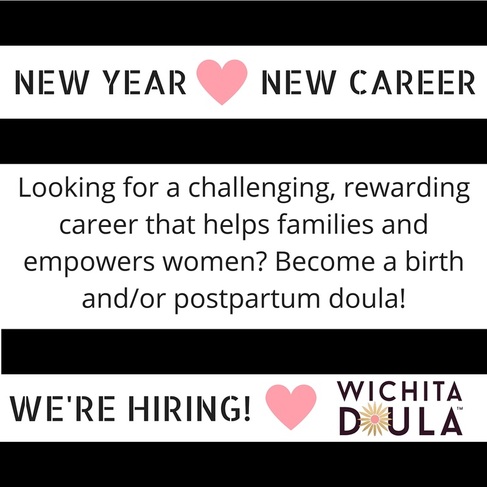 No Experience Necessary - We're Bringing the Training to You!
Wichita Doula is committed to bringing clients only the absolute best. That's why we are looking for doulas trained by ProDoula, the doula training organization for the modern woman!
How can you get this doula training in Wichita? Simply wait until May 2016, when ProDoula will be in the ICT training doulas for both labor and postpartum.
Contact the ProDoula office to register.
*
*Please note that we will not automatically hire all participants from the training - there will be an interview process.
POSITIONS OPEN:
Labor Doula
Postpartum Doula
Childbirth Educator
Want to be all three? AWESOME!
What are the benefits of working for Wichita Doula?
Just to name a few...
1. We've done all the legwork on building a brand.
When you don't have to worry about the logistical challenges of starting a business from the ground up, investing, marketing, and finding clients, you are freed up to simply enjoy working with the clients you are assigned and get paid.
2. Work as much or as little as you like
- bonuses for bringing in clients through your own efforts.
3. You can be mentored every step of the way,
so you never have to feel lost as to what's expected of you or how to handle your work.
4. We will have huge quantities of
FUN!
WICHITA DOULA MISSION STATEMENT
Our mission is to help families grow in confidence as they give birth and parent. We are respected
experts in
the community, we exude excellence and integrity in our every word and action whether at home or on the job. We leave our baggage at the door when working with a family. We meet families where they are, supporting their needs without our own preconceived biases. We are trustworthy, skilled, knowledgeable, ethical, and compassionate.
Non-judgmental support for all types of families and philosophies is one of the founding tenets of Wichita Doula, LLC.
Are you a:
- "
"?
- "Birth advocate"?
- "Birth activist"?
If so, it won't be a good fit.
Are you still here? Download this page and fulfill the requirements listed in order to fast-track the application process. Can't wait to meet you!
Wichita Doula Job Application
File Size:
269 kb
File Type:
pdf
Source: New feed