What Do I REALLY Need to Pack for the Hospital? | FREE PRINTABLE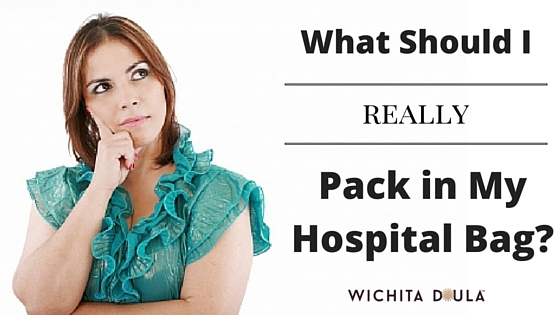 Whether you're a list-making planner or a last-minute packer, you have probably wondered
...which items are really necessary to put into your hospital bag?
You can search online for checklists, but many of them are contradictory or tell you to bring things that are cumbersome or just silly!
I have always provided my doula clients with my special tips on how to pack a hospital bag – but now I want to share that information with everyone! So, here is my list of what to pack for the hospital – no fluff, no nonsense, no stuff you don't need.
And as a special bonus, you'll find a FREE printable checklist at the bottom of this post!
Stuff for you!
Any paperwork you need for the hospital! This might include your ID, your insurance card, registration forms, and your birth plan.
Your favorite pillow from home. It will be more comfortable to you and have a familiar sight and smell! Make sure it has a distinctive pillowcase or cover on it so that it doesn't get mixed up with the ones at the hospital.
Toiletries. Your deodorant, toothbrush, and cosmetic bag will probably be a welcome sight as soon as you can take your first shower after giving birth!
Something to keep your hair out of your face in case it starts annoying you during labor.
Something to do. Comforting music or a hypnosis track, a magazine, or a crossword puzzle can help distract you during early labor or while you are waiting for an induction to kick in.
Comfy and roomy clothes for after baby comes! Choose something like a warm nightgown or soft yoga pants that will be simple to work around.
Socks and/or slippers – when you're walking the halls in labor, you don't want to be barefoot!
Nursing bra – whether or not you're breastfeeding, your breasts will need care after birth.
Nursing pads to soak up any leaking and keep you nice and dry.
Going home outfit! Something basic and comfortable. Keep in mind that it may take some time for you to return to your pre-pregnancy size, since it takes several weeks for your uterus to return to its normal state.
Stuff for your support team!
Extra copies of your birth plan. You can make sure your partner and doula have one, give one to the nurses' station, and have one on the table by your bed!
Light, healthy, energizing snacks such as granola bars, honey sticks, and sunflower seeds
Camera to capture some special moments!
Cell phone charger! Don't leave this at home so your battery goes out just before you start calling your relatives with baby news.
Swimsuit in case your partner needs to support you physically while in the tub or shower.
Stuff for your baby!
A cute and comfy outfit for baby to wear home.
Socks to keep baby's tootsies warm. Some parents also put those or mittens on baby's hands to keep them from scratching their faces!
A favorite soft blanket.
Safety nail clippers for infants – many babies are born with sharp fingernails.
Remember to have baby's car seat checked for proper installation and all ready to go – ahead of time.
Other helpful tips!
You don't have to bring half your house with you. Leave stuff like diapers and your breast pump at home – the hospital will have those available. Leave jewelry and other expensive valuables at home.
Before the big drive to the hospital, lay a large plastic trash bag down on the seat and cover it with a towel. This will help protect the seat if your water breaks on the way there!
Planning a home birth? I suggest still placing a bag in the closet or trunk of the car with a few essentials in it, in case you need to transfer to the hospital for any reason.
This list can easily be changed up for your particular needs! See something missing that you think you'd really like, or something you doubt you'd ever use? That's fine, just bring whatever you and your family need to feel comfortable, prepared, and ready to bring home baby.
Please enjoy this free printable!
Wichita Doula's Hospital Bag List
File Size:
280 kb
File Type:
pdf
Source: New feed