Meet Audrey! Frequently Asked Questions Answered by Professional Wichita Newborn Photographer
Photo: Justin Casanova
Ready to see some major cuteness?
I sat down with Audrey from Audrey Lee Portraits in her adorable studio to get to know her a little better and get the answers you need when considering top-quality professional newborn photography.
Just talking with her and hearing how much she loves her work made me get so excited for some squishy, brand-new baby photos!
WD: What made you decide to become a professional photographer?
ALP: I first started by taking a computer graphics course in high school, where I learned how to use Photoshop. We would practice editing photos found online, then I moved on to taking pictures of my siblings with a little Kodak point and shoot camera from home. I would take them to school and edit them in Photoshop and I really liked it. From there I knew that if I wanted to really pursue it I needed a better camera so I didn't look ridiculous! At 17 years old, I bought my first DSLR, and just went from there.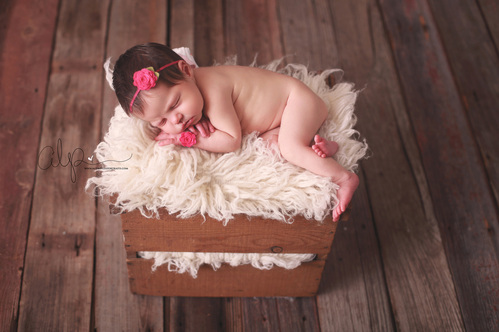 WD: How did you learn more advanced techniques and develop your skills?
ALP: I am basically self-taught. My course in high school didn't teach me anything about lighting, operating in manual, editing, or anything like that - just how to take things out of photos and so on. No details, just very basic. Youtube has been my best friend and CreativeLive has helped me a lot, but really everything I have learned has been from my own mistakes. The thing about this industry is that there's always something you can learn - you can never know everything. Even just from last year, I could see the biggest change in my work from just a year's time. All that was basically was just learning as I go. I don't recommend this, I just got really fortunate and it worked out for me. You can get there much faster than I have with some of the great classes out there.
WD: What are some of the most special moments you've experienced in your career?
ALP: I've enjoyed a lot of volunteer work, such as photographing babies in the NICU, but aside from giving back to the community the one session that really sticks out for me is one where the mom was not able to afford newborn photos and since I was just starting out I told her I would take a few photos of her baby to get my portfolio started. With each new pose of her child, she would tear up and get super emotional seeing how precious they were. When I delivered her photos she didn't really respond right away, which surprised me. Later she called me on the phone, crying and crying, telling me how happy she was, how wonderful they looked, and what a blessing it was that she never got to have with her other kids. So that was one moment that was really special, and stuff like that makes it all worth it to me because there are still people out there who value you, your photos, your time and they know they can't get that anywhere else. Plus I get to hold babies all the time, so that's pretty cool.
WD: What is one of the funniest or most awkward moments you have had while working with babies?
ALP: [laughs] When I do newborn shoots, I do not look professional. Yoga pants, hair pulled back, sweating in a 90-degree studio – that's me. I walk into this knowing I will be peed on, pooped on, and puked on. Now, when I come to a session, I provide the props and accessories. A lot of them are hand wash, delicate, hard to clean items. There was one baby, when I was posing her on my two brand new sheepskin rugs, she started grunting and squirming. I quickly suggested that the parents pick her up! So her mom picks her up, and baby just explodes. I scooped my hands into a bowl just in time to catch the baby poop, to save the rug. That will probably stick with me for the rest of my life. How many people can say they've caught a bowl full of baby poop in their hands? Not very many.
WD: What are your top 5 reasons that parents should invest in a professional photographer to capture their newborn's first days?
#1: Cost! If you're trying to save money, it actually can save you some money in the long run to hire a pro. They provide you with props, bows, backdrops, and outfits that fit your baby. When you try to create pics yourself you're going to want something for them to lay on, you'll run up your gas or electric bill to try to keep your house warm enough, and you can easily spend $100 or more for one-time outfits or accessories. A professional will have all that and more, already taken care of for you.
#2: Editing! If you were your senior pictures taken and had woken up with acne that day, you'd want it taken out professionally because that's not who you are. Nobody wants that to be in their photo. Babies can have acne too, or jaundice, they can scratch themselves and have dry skin. In a photo you're capturing a newborn's innocence and beauty. Even if at that time they have jaundice you still want to create beautiful keepsake photos and a pro can capture what your baby truly looks like.
#3: Patience! When you hire a pro, they have the patience to work until everything is just right. I want to have your baby's hands perfectly relaxed for you. To be sleeping peacefully in their photos. I work to get your baby completely posed head to toe without any giving up, whether it takes 30 minutes or 3 hours. Someone who does this for a living and truly values it will take the time to help your baby and give you the photos you really want. A professional is used to doing this all the time.
#4: Safety! Professionals know the ins and outs of safety when it comes to working with brand new babies – for example, it isn't safe to do that froggy pose you see all the time. That's two pictures in one, edited. A pro knows it's not safe to pose a baby like that in real life, but someone who's not a pro may not know that. We understand the poses and know how to make sure your baby is safe and create a professional, high quality photo at the same time.
#5: Finished product! How your baby will look in their photos. Anyone can take their camera out, prop baby on a pillow and take photos. They do it in the hospital every day at high prices. Anyone can throw a blankie on a beanbag and take a pic of a baby. However, it really takes patience and experience to pose your baby, in a real studio experience. You can go somewhere like a department store, spend 45 minutes getting pictures taken and if you don't like it, well, that sucks. It's a whole different world when you're working with someone who's passionate about working with families and wants to work hard for you to give you the perfect images.
Audrey has been providing professional photography services full time since 2013. When she's not photographing adorable babies, she's raising her two ornery boys and editing pictures. You can find her online at
and also catch up on her latest studio news
Source: New feed