It's Rebozo Time in Wichita!
The Wichita birth doulas and midwives, myself included, got to enjoy a rare treat this month in the form of Gena Kirby's Rebozo workshop - hosted by
It was practically spur-of-the-moment, with only a couple weeks to gather attendees, and then planning a potluck lunch the night before!
A rebozo is a versatile woven, shawl-like fabric that carries great significance in Mexican culture. It is used as a garment, to carry items or children, is presented to new brides, and may even be used as a special burial shroud. I've had one for a while, but never used it – I knew that there were a lot of practical applications for a rebozo in working with pregnant women, so I jumped at the chance to take this workshop and learn what they were.
Gena Kirby's reverence and honor for the rebozo is apparent, but she is also totally unafraid to get raw and real with her students, alternately making us laugh and cry. One of the most awesome things about the workshop was the ice-breaker technique she had us incorporate our rebozos into. We all went from stiffly and quietly sitting lined-up on our yoga mats, to relaxed, touching, chatting, sitting with each other on each other's mats.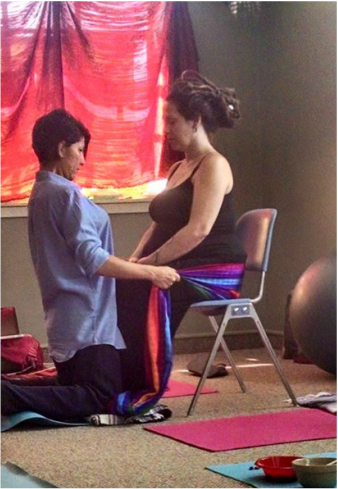 I learned so many neat techniques to help my clients! Some of the most important ones are things to help the mom's husband or partner bond with her and take care of her. As a doula, it is never my role or intention to "take over" and exclude the partner, so these really resonated with me and made me excited to share them with families. I am proud to be one of the few Rebozo Certified doulas in Wichita!
Practicing a special relaxation technique!
Sleepy babies love rebozos.
We're all so grateful for Gena traveling to Wichita to share her wisdom with us, and now we can't wait to start sharing it with you! Gena is a family advocate who hosts the
radio show and you can learn more about her and her online classes on her
.
Have you ever heard of a rebozo? What have you used it for?
Source: New feed