Wichita Rhea Lana Review: My Experience as a Consignor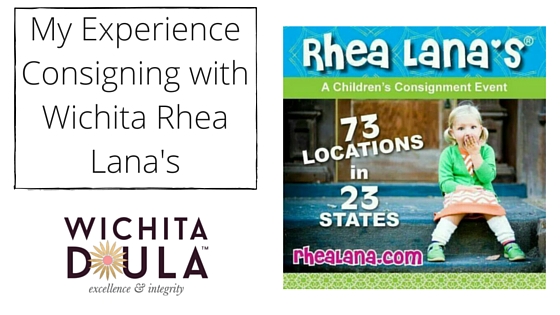 Consignment sales are great opportunities to clear out unwanted items and make some extra cash, but they can be a lot of work too. Some people never even give it a try because they don't want to spend the time sorting and tagging items. Is it worth the effort?
Here's my experience as a three-time consignor with the Rhea Lana's of West Wichita consignment sales.
Time spent preparing
So, if you're the super organizational sort
*cough*
like me *
cough*
you probably won't think this is a big deal. I spent several hours over two days preparing items for sale. I found that I just had to
get a good system going
and it would move pretty quickly.
- Gather supplies
– plastic hangers, large safety pins, string tags, scissors, Sharpie, laptop, iron & board
- Sort items into piles by size
– smallest to largest
- Ironing board set up
– give each item a quick pass with the iron
- Inspection
– zip zippers, clip loose threads, check for any stains under the light
Once I had all the items sorted, ironed, and inspected
, I could move on to entering them into the Rhea Lana system, which was easy to do while logged into the website from my laptop (but you can also do it by voice on your phone if you want).
- Place plastic hanger on garment,
using extra large pins for pants, blankets, and loose items
- Pin string tag,
marked with the number corresponding to the website entry, to left shoulder of garment
- Enter garment on website
via the drop-down menus for brand, size, price, etc.
Packaging things like books, shoes, toys, etc. is also very straightforward and you place these items inside Ziploc bags.
There are clear instructions for preparing items, and which items are acceptable, on the website.
As you finish your items, you have a couple more choices to make. One of these is
whether or not to allow your items to be sold for half-price at the end of the sale.
My recommendation is to select YES for all of your items. As a seller, wouldn't you rather sell ALL of your items and take a small hit on price, than have to bring home most of your items because they didn't sell? As a shopper, when you come to the advertised half-price sale, hoping for some great bargains, there is nothing more disappointing than picking up something cute and seeing that big red dot on the tag which means it's NOT on sale.
You also have to take your items to the location and get checked in, and put the barcodes on the tags. Then you take your items on rolling clothes racks and put them where they belong according to size and type of item. This really doesn't take that long.
One of the great things about the Rhea Lana consignment sale in Wichita is that you can choose to donate your unsold items to help families in need. It's fantastic to see the large pile of quality items going to those who need them the most so I recommend that you
select YES to donating your unsold items!
Added benefit: you don't have to make another trip to the location to pick up stuff, and they'll mail you your check!
My absolute favorite part of being a consignor? Being able to watch my sales grow online in real time. No waiting until the end of the week to find out if you made any money – you get to see exactly which items sold, and how much you got. With 70% of each sale going into your pocket, and only a $10 fee to enter,
you can easily get a very nice check at the end of the event. (Hello, doula fund! ;) )
I know a large consignment sale like this cannot be pulled off without many hours of hard work, and the ladies who run the Wichita Rhea Lana have put a HUGE amount of time, effort, and labor into making it a profitable and fun event. They are all super nice, helpful, and really want to help you sell your items or buy what you're looking for.
CHEAT SHEET:
very friendly and helpful staff
hours or even days spent prepping items
$10 consignor fee (which can be refunded if you volunteer to help)
70% of sales go into your pocket
check sales online in real time
VIP service available – they do all the work for you and take a larger cut of $$$
Have you ever been a Wichita Rhea Lana consignor? What was your experience like?
Source: New feed