2014 Improving Birth Rally & Baby Fair - Wichita, KS
On September 6, 2014, I joined together with thousands of women, their families and birth professionals everywhere for the
. Founded by
, an organization devoted to bringing evidence-based care and humanity to childbirth, the Rallies took place in almost every one of the United States as well as in a few other countries around the world. This year, the
decided to rally in the form of a pregnancy and baby fair, drawing in a much larger crowd than usual and focusing on the birth options we need and want right here in Wichita.
Our strictly
fair featured some of the most wonderful vendors and advocacy groups our area has to offer. From midwives, doulas and chiropractors to natural baby product sellers and babywearing experts, there was something for everyone and plenty of opportunities to make great connections. I was too busy manning the Wichita Doula table to photograph everyone, but at least I snagged a few photos of this great event!
I love my Birth Matters shirt, but it couldn't quite conceal my baby bump!
The Wichita Birth Alliance booth focused on the care and childbirth options we desire for our area. We want more nurse midwives, freestanding birth centers, birth stools, waterbirth in the hospitals and the use of nitrous oxide during labor, to name a few. I'm proud to be a part of this grassroots organization for change!
and consider supporting our work by becoming a member!
Sharon Foster is our only Certified Nurse Midwife currently working in our hospitals. We love her, but with over 3,000 births a year in our city we should have approximately seven nurse midwives to serve those women!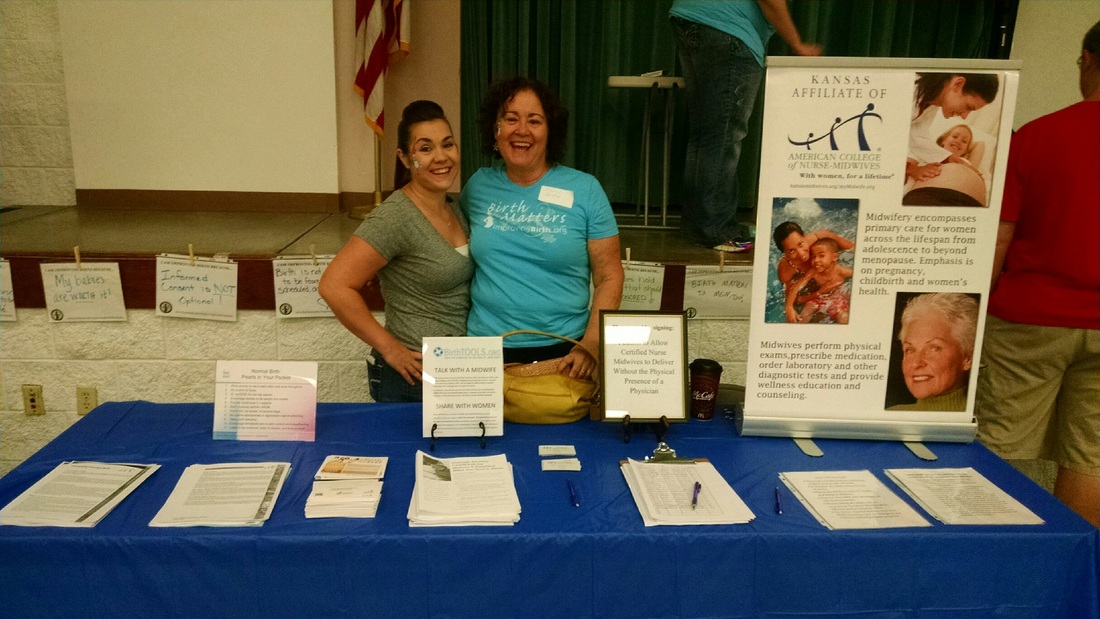 The
booth was there to spread the word about the organization's work to prevent premature births and birth defects.
Count the Kicks is an important new organization devoted to teaching pregnant women to be aware of fetal movement patterns in the third trimester in order to decrease rates of stillbirth. Their free app and more information is available at
.
The Bradley Method of Natural Childbirth is a great childbirth education series that focuses on teaching couples the important tools they need to reach their goals of achieving a natural birth.
Abbey Parrish of
does beautiful, professional henna designs for pregnant bellies or for any occasion. She also makes an amazing special guest at a Wichita Doula
!
A look at the event during peak traffic - many families enjoying meeting the vendors, face painting, balloons and anticipating the raffle winners. We received a number of generous donations from community businesses as well as popular natural baby product companies to raffle off to our visitors. The large screen on the stage showed a video explaining evidence-based care and the options we hope to bring to Wichita.
According to
, 9 out of 10 American moms experience maternity care that involves more risk than benefit. We want to change that! The Rally to Improve Birth is quickly proving to be one of the best tools we have right now to raise awareness of maternity care issues in the United States and inspire more families to participate actively in getting the kind of care they deserve.
This is why we do it!
Did you come to the Rally or participate in one in your city?
Source: New feed